I went back to the gym today
for the 1st time in 2 wks (I told yall I was making a come back). It was GREATT! I actually didn't gain as much weight as I thought, for some reason I had myself believing I gained like 8 pounds and shit,
I really only gained 2 pounds
but it felt like 3 million.
But anyways I'm making a new goal for myself. I'm gonna get myself in tip-top shape and on Nov. 2, 2009
I'm going to apply @ Hooters.
Look! A bitch needs more money than rent money. I want to be able to buy beautiful and extravagant things by the bucketful -- like these fuck-me pumps right here: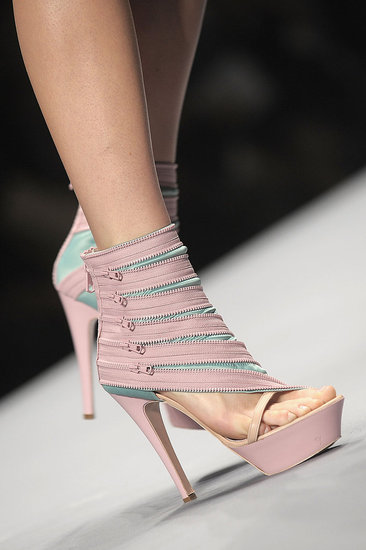 ...and babysitting aint cutting it! Plus, where else am I gonna meet my sugar daddy? OK?! Point proven.
My hair is itching like hell
but I don't care. I'm gonna really try to do this thing. However, I did consider breaking my perms up into 3 month intervals. By Dec. 10th that'll be month 3 and I'll know whether I'm gonna it then or the 6 month thing. It is sooo tempting for me to reach under my sink and whip up that tub of instant silky edges but I'm not gonna even consider it until Dec.!
*pinky promise to myself*
I want to kill, and at the same time fuck, the guy who lives in the apartment next door to me! He BLASTS his fucking music and I sware the sub-woofer is nailed to the wall because it vibrates my brain. I went to his door to complain and he apologized. He said he was making beats, he's real sweet and he turned it down right away but
he also is very attractive.
What's a girl to do? Idk but I told him 10pm is the latest I wanna hear that bullshit.
Anyways, back to reading because I need to watch Gossip Girl in 10 minutes.
Toodles, noodles.